---
Speakers & Pitching companies
---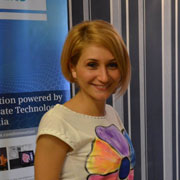 Elena
Ovreiu

---
Co-founder LiveCare
Elena Ovreiu, co-founder LiveCare, is a lecturer at the Faculty of Electronics, Telecommunications & IT and the Faculty of Medical Engineering, University Politehnica of Bucharest, Bucharest, Romania.
She received her Master's degree from the University Politehnica of Bucharest, Bucharest, Romania in 2009 and her PhD degree from INSA de Lyon, Lyon, France in 2012.
Her Master thesis was conducted at Nanyang Technological University, Singapore under the supervision of Prof Alex Chichung Kot and was focused on digital image forgery detection.
The PhD research was conducted at Creatis (Biomedical Image Research Lab), INSA de Lyon, France under the supervision of Prof Remy Prost and was focused on complexity reduction of 3D digital objects.
During her PhD research, Elena Ovreiu has been a visiting scientist at Technion Israel Institute of Technology, Haifa, Israel (2011), working with Prof Craig Gotsman on quadrilateral mesh modeling and at Pontificia Universidad de Javeriana, Bogota, Colombia (2012) working with Prof Leonardo Florez on interactive and real-time 3D objects deformation for medical applications.
Her current research interests are in Modeling and Simulation of Anatomical Organs, Biomedical Image Processing, Graphics and Computer Vision in Medicine.
Since 2015, Elena Ovreiu is the founder of a series of annual workshops and summer schools on imaging with medical applications SSIMA.
Since November 2016, Dr. Ovreiu is the moderator of the radio show "Trust me, I'm an engineer" at Radio Guerrilla focused on Medical Technology.